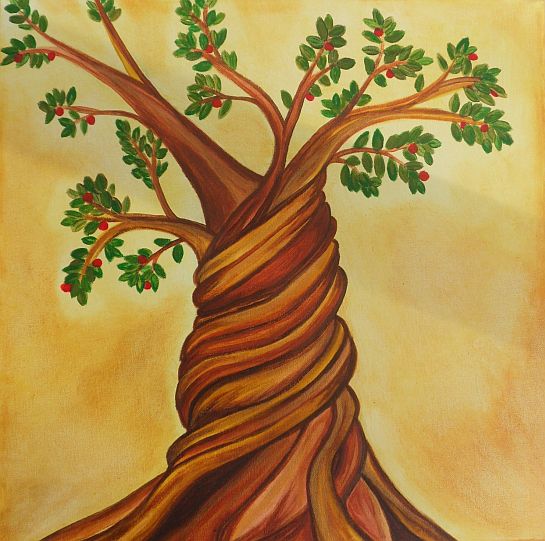 Claire Hackwood has contributed some of her pictures for the website and has written an explanation to accompany each picture. Clare introduces herself as follows:
I am a Christian artist working in the West Midlands and a member of Grace Vineyard Church Walsall, part of the Vineyard Churches movement. I have always had a keen interest in the visual arts and, as such, I read Art History at the University of Nottingham and studied Fine Art at A-level.
I normally work during the worship sessions at our church, where I feel I am able to fully engage with God. My work always begins with a prayer asking God what he would like me to draw and I then sketch or paint the images I am given. As such my work often tends to be fairly instant, expressive and sketchy rather than carefully planned, executed and detailed.
These images may be used freely for private and local worship purposes. Please contact the artist before using them for any other purpose.
---
New Fruit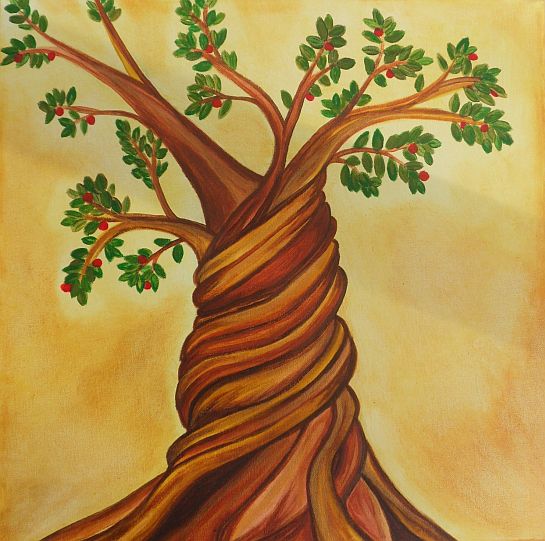 This painting was a commission for a member of my church. In my mind I saw a old tree with new shoots and bright red berries on it. The distinguishing feature of this tree was its roots, which came up out of the earth and wrapped around its trunk, firmly rooting it in the ground. I felt God was saying that the individual who commissioned this work is so firmly rooted and entwined with God that he will always bear fresh new fruit and he will be unshakeable.
---
The Heavenly City
This pastel drawing started as a picture in my mind of a dark city on a hill. The structures were not built in the usual way, but seemed to have 'grown up' out of the landscape. I saw the image develop and the light grew brighter and brighter until it was blinding. This drawing has been interpreted as the heavenly city described in Revelation. In this city there is no need for a sun, as Jesus is the light.
---
Floodlight
A representation of God's light that is so bright it cuts through the darkness. Floodlights expose everything and search out the unseen. In the same way God's light exposes the darkness in our hearts and searches out those living in darkness.
---