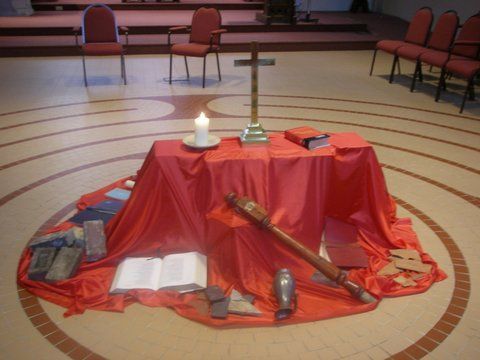 A worship focus with inspiration from the darkest hours of persecuted Christians. This moving display was created by John Sennett, a local preacher in Chislehurst. Our thanks to him for sharing with us his creation and his thoughts about how and why he chose to create this particular worship focus.
John says:
The display was a focus with the congregation sitting in a horseshoe pattern for a Methodist service to create a real awareness of the widespread and often vicious persecution of Christians; also to highlight the work of Christian Solidarity Worldwide in ameliorating the conditions they are suffering.

Daniel Sinclair, communications officer for CSW, came and spoke of the vital importance of prayer for everything the organisation does. CSW encourages people to pray for those suffering persecution and to send them cards or letters. It is widely respected for its advocacy work at the Westminster and the European Parliament. More recently it has access to the United Nations in New York. Its web site is www.csw.org.uk.

The main influence in conceiving the display was the dire situation in Northern Nigeria where Boko Haram is destroying churches, business and domestic properties in an attempt to drive Christians out and impose Sharia law. The destruction is accompanied by violence, killings and maimings. Archbishop Kawaschi and his family narrowly escaped being killed. The scarlet drape symbolises this. On it were scattered items one might find in a wrecked church. Some were displayed upside down or at odd angles to symbolise contempt for the congregation of the church. To avoid being too negative three items were placed on the top level: the cross to symbolise that Christ suffers with his people and to demonstrate its power; the Bible to remind us that God`s Word will not pass away; and the lighted candle to announce the presence of the Holy Spirit, a guide, a comforter and a friend.
Please contact CSW rather than John Sennett for more information on the persecuted church. CSW will be very pleased to hear from you and will be able to tell you how you can help.