The Advent Creative Retreat activity book
Mark and Mary Fleeson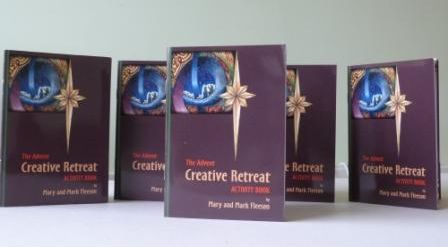 Another superb book from the shelves of Lindisfarne Scriptorium.
The Advent Creative Retreat Activity Book is fresh from the pen of Mark and Mary Fleeson. This book arrived smartly through my letter box and I eagerly opened it to find a fabulous aubergine cover with a beautiful scene of shepherds and a glorious star on its cover. Mark and Mary once again give us an opportunity to find a quiet space in our busy days to still ourselves, to be ready to welcome Christ this Christmas.
This small book is absolutely beautiful and is packed with meditations, prayers and activities, thoughtful insights and ideas, all on an Advent theme. It will be a great asset to anyone using creative arts in worship as well as for individual contemplation – a brilliant Christmas present for your creative arts in worship friends and worth more than every penny of the £3.99 it costs.
There is also a downloadable Group Edition which has a PowerPoint and printable activity sheets.
Reviewed by Jacqui Hicks